View and Convert PDF, DWF, PLT, CGM, TIFF, CALS and Gerber: SoftwareCompanions deliver viewing and conversion software. The main products are ViewCompanion and GerbView, which handles PDF, Gerber, TIFF, DWF, CALS, CGM and other formats. [HPGL viewer, PLT Viewer, Gerber viewer, PDF viewer, plt viewer, TIFF viewer, DWF Viewer, PDF to DXF, DWF, convert, PDF, DWF, PLT, CALS, CGM, view, viewer, conversion, PDF to CAD]

GerbView is a program that lets you view Gerber, HPGL/2 and Excellon files produced by most PCB CAD Programs. In addition You can also view graphic file formats like BMP, TIFF, JPEG etc. Conversion to DXF, PDF, TIFF, CGM and other standard formats. Markup using lines, text, polylines, polygon and other entities.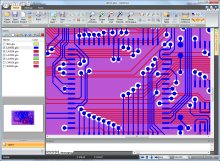 Use ViewCompanion Pro to view, markup, print and convert PLT, PDF, HPGL/2, DWF, CGM, TIFF, CALS, JPEG, PNG and BMP files. The program can convert to the following standard formats:AutoDesk DWF, AutoDesk DXF, Adobe Postscript, Adobe PDF and PDF/A, Gerber RS-274X, Windows Metafile, Enhanced Metafile, CGM, SVG, CALS, TIFF, JPEG, PNG, GIF, Windows BMP and PCX. Some features: Multiple Document Interface (MDI) makes it easy to view several files at once. Drag and Drop supported. Shell extension included. Copy selected region to clipboard, and paste into another Windows application. Print with watermark, header and footers. Color or Black & White printing. Scaled print or fit to paper. Poster print. Full print preview. Batch printing and conversion.

ViewCompanion Standard can view, print and convert PLT, HPGL, HPGL/2, DWF and CGM files. Print on all Windows printers. Convert to PDF, DXF, DWF, CGM, PNG, JPEG, TIFF, WMF, EMF, SVG and more formats.Batch printing and conversion included.